07 Nov

SNIS Ranks as One of Top Schools in Bengaluru

Recognition goes a long way as a motivational tool. On the heels of Sharanya Narayani International School being ranked as No. 4 International Day School in Karnataka & Bangalore by EducationWorld Magazine 2017 and being recognized as a Futuristic School of India 2017 by re:think India, SNIS has now been awarded top ranks in a few categories by Digital Learning Magazine. The rankings showcase some of the top schools in India. The report presents school rankings in terms of regions and demographics within cities across the country in various categories. The schools are compared and ranked based on a few parameters that point to the overall quality of education.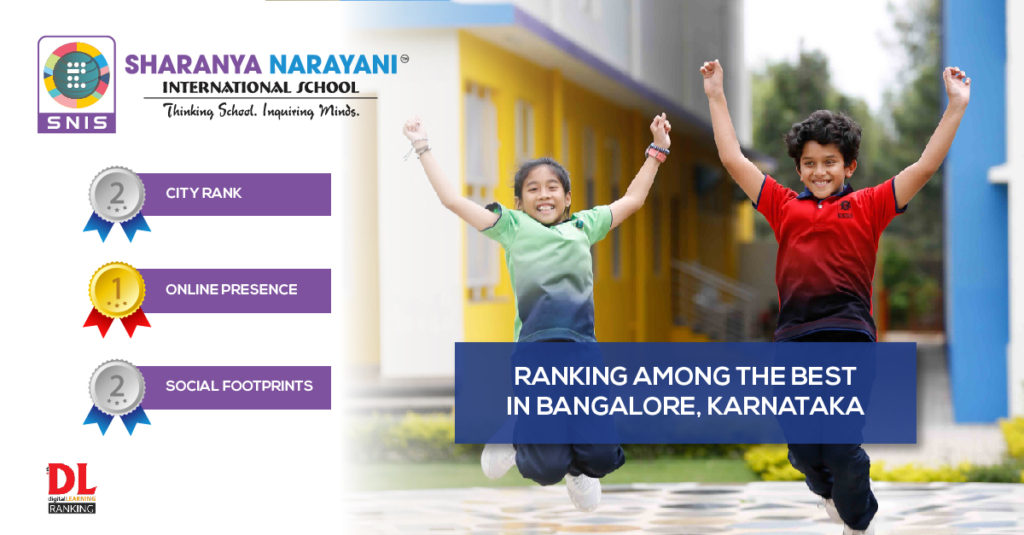 Source: http://digitallearning.eletsonline.com/ranking/top-schools-of-india-ranking-2017/
All parents want the best educational environment for their children. The report by Digital Learning Magazine provides them with the right yardsticks to judge whether a particular school would be a good fit for their child. There are primarily three categories in which schools have been ranked, viz, City Rank, Online Presence and Social Footprint. SNIS was recognized in these categories for Bangalore East.
SNIS Comes in Second in the Overall City Rank
Every parent wants a school that promotes academic excellence coupled with extra-curricular activities for holistic development of their child. It is crucial how a school plans on the overall development of a young mind in terms of knowledge, creativity, scientific temper, positive attitude, emotional intelligence and resilience in facing real-world challenges. At SNIS, we employ unique strategies and programs to achieve the mission and goals that we have set for our school.
SNIS Ranked First in Online Presence
According to the report, a school's online presence is of paramount importance. It is the easiest way for parents to research and shortlist schools for their wards seeking admissions. The school's website is the best source of information about its culture, priorities, mission etc. It can showcase any special programs that the school offers to contribute to the overall personality development of the children instead of just academics. This information helps parents make an informed decision instead of just depending on things they've heard about the school from other parents or acquaintances. The magazine has used the digital tool, Moz, to evaluate the best school websites.
SNIS Ranked Second in Social Footprint
In the age of social media, a solid social footprint is a must. It helps the school reach out to the parents quickly with news, views, opinions, knowledge pieces, updates in the education sector etc. Additionally, harnessing the power of social media through its various channels has the potential to attract prospective parents seeking admissions for their kids. At SNIS, we use social media as a medium to communicate with our parent community, share pictures/videos about school activities, and receive valuable feedback from our parents.
Sharanya Narayani International School is proud of the accolades bestowed upon our school by Digital Learning Magazine and we strive to be better every year with absolute dedication towards our students, the future citizens of this ever-changing world.