31 Oct

Lakshmi Reddy, Academic Director of SNIS Was Recently Interviewed by Elets News Network (ENN)

We inculcate analytical and critical thinking skills through teaching and learning in a bid to help students become lifelong learners and responsible global citizens, says Lakshmi Reddy,Academic Director, Sharanya Narayani International School, in an interview with Elets News Network (ENN).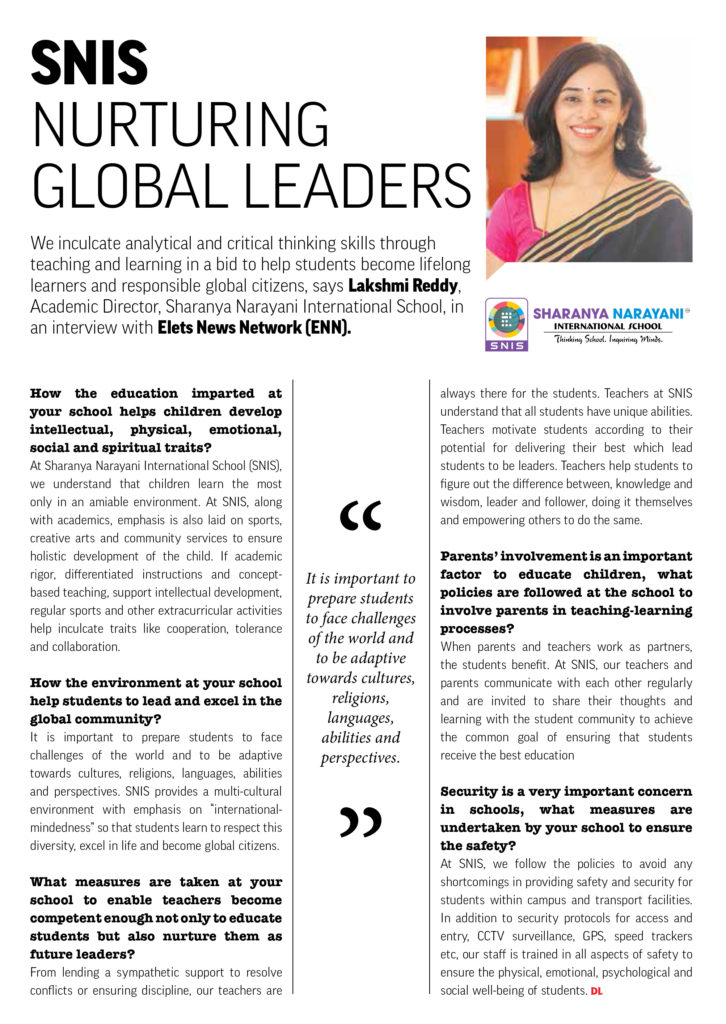 Source: http://digitallearning.eletsonline.com/ranking/top-schools-of-india-ranking-2017/
How the education imparted at your school helps children develop intellectual, physical, emotional,social and spiritual traits?
At Sharanya Narayani International School (SNIS),we understand that children learn the most only in an amiable environment. At SNIS, along with academics, emphasis is also laid on sports,creative arts and community services to ensure holistic development of the child. If academic rigor, differentiated instructions and conceptbased teaching, support intellectual development,regular sports and other extracurricular activities help inculcate traits like cooperation, tolerance and collaboration.
How the environment at your school help students to lead and excel in the global community?
It is important to prepare students to face challenges of the world and to be adaptive towards cultures, religions, languages, abilities and perspectives. SNIS provides a multi-cultural environment with emphasis on "internationalmindedness"so that students learn to respect this diversity, excel in life and become global citizens.
What measures are taken at your school to enable teachers become competent enough not only to educate students but also nurture them as future leaders?
From lending a sympathetic support to resolve conflicts or ensuring discipline, our teachers are always there for the students. Teachers at SNIS understand that all students have unique abilities.Teachers motivate students according to their potential for delivering their best which lead students to be leaders. Teachers help students to figure out the difference between, knowledge and wisdom, leader and follower, doing it themselves and empowering others to do the same.
It is important to prepare students to face challenges of the world and to be adaptive towards cultures,religions,languages,abilities and perspectives.
Parents' involvement is an important factor to educate children, what policies are followed at the school to involve parents in teaching-learning processes?
When parents and teachers work as partners,the students benefit. At SNIS, our teachers and parents communicate with each other regularly and are invited to share their thoughts and learning with the student community to achieve the common goal of ensuring that students receive the best education
Security is a very important concern in schools, what measures are undertaken by your school to ensure the safety?
At SNIS, we follow the policies to avoid any shortcomings in providing safety and security for students within campus and transport facilities.In addition to security protocols for access and entry, CCTV surveillance, GPS, speed trackers etc, our staff is trained in all aspects of safety to ensure the physical, emotional, psychological and social well-being of students.