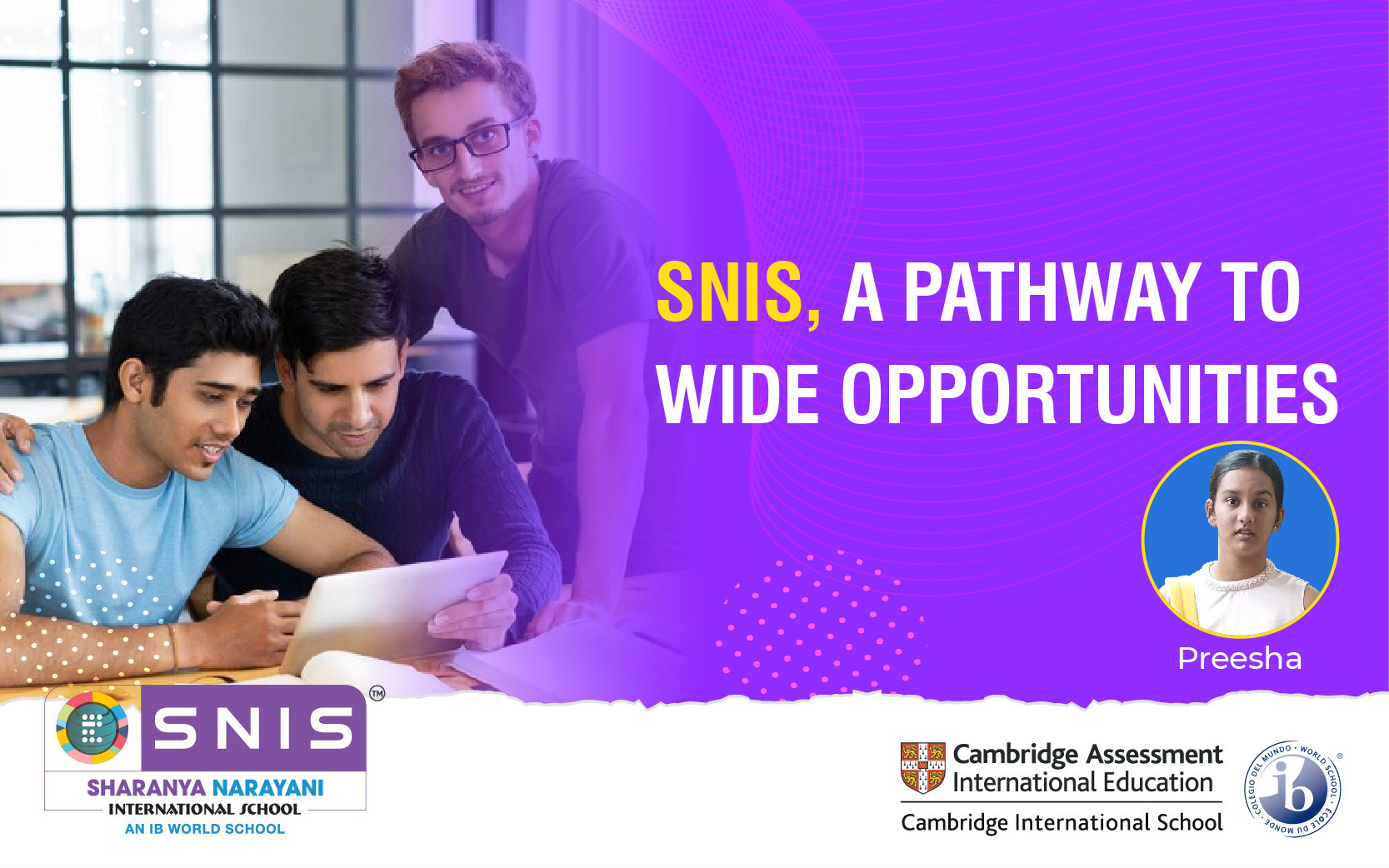 06 Apr

SNIS, A Pathway to Wide Opportunities

Sharanya Narayani International School, located in Bengaluru is considered one of the top boarding schools in Bangalore. SNIS campus, consisting of extensive 60-acres, supplies its students with state-of-the-art infrastructure and earns it place as one of the top residential schools in Bangalore. Children from multi-cultures are engaged in a caring and thoughtful environment, where the uniqueness and creativity of each child is nurtured. Our school offers the following curricula: IB Primary Years Programme (IB PYP) for grades Nursery to 5, IB Middle Years Programme (IB MYP) for grades 6-10, Cambridge IGCSE, classes 9 & 10, and IB Diploma Programme for grades 11 & 12. Students here take sincere responsibility for their own learning and interests. Teachers are always there to push them out of their comfort zone, to experience the world through various colors, and build the united leaders of tomorrow.

I have been in SNIS for 7 years now, and honestly speaking, there has never been a single moment where I have regretted studying in this school. I have learnt so much here, from accepting myself as a nobody, to being an open-minded, challenging and confident person. In my previous school, I was an easy target for bullying as I had no friends, and was very shy, introverted and a reserved kid. I was never smart, or even average in studies, nor did I have my thing in art or sports. Except for me, the rest of the class displayed some sort of talent. At that point, I felt extremely unwanted and useless.

Nevertheless, my entire life changed when I came to SNIS in my 2nd grade. I started to excel and do great in my academics, and was even one of the most active learners in class. I played sports, and discovered my hidden passion for performing arts and dance. I started to socialize more and had many supportive friends and teachers who always had my back and cheered the loudest on all my achievements. For the first time, I felt special and important! I realized that there was this vast ocean of talent flowing inside of me, but I had never been recognized.

My way of learning and adapting is different from the rest. I believe children are different and gifted in their own way, and the thing that matters the most, is that every student out there deserves to be recognized. SNIS will astonishingly guide the student to flourish and become the best version of oneself, which is why in my opinion, SNIS is not only the best IB School in Bangalore but also the best international school in Bangalore.