Sharanya Narayani International School is authorized to offer the Diploma Programme (DP) of the International Baccalaureate Organization (IBO).
What is IB Diploma Programme?
The IB Diploma Programme (DP) was established in 1968 to provide an international education that would enable young people to better understand and manage the complexities of our world, and to provide them with the skills and attitudes to take action to improve it. It is recognised by leading universities across the globe.
"The IB Diploma Programme (DP) is a rigorous, academically challenging and balanced programme of education designed to prepare students aged 16 to 19 for success at university and life beyond. The DP aims to encourage students to be knowledgeable, inquiring, caring and compassionate, and to develop intercultural understanding, open-mindedness and the attitudes necessary to respect and evaluate a range of viewpoints."
Source: http://www.ibo.org/mission
The IB Programme is not just a curriculum, it is also a teaching and educational philosophy. The IB classes are intended to teach students to think critically, to recognise the importance of seeing events or knowledge claims from diverse perspectives, to comprehend strengths and weaknesses of what students or others claim to "know," to recognize and discover ethical controversies integrally relevant to what they learn, and to be able to relate what they learn in significant ways to the "everyday life"
What the DP offers students
Through the DP, schools are able to develop students who:
Have excellent breadth and depth of knowledge
Flourish physically, intellectually, emotionally and ethically
Study at least two languages
Excel in traditional academic subjects
Explore the nature of knowledge through the programme's unique theory of knowledge course.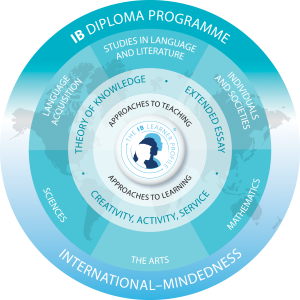 The Diploma Programme (DP) curriculum is made up of six subject groups and the DP core, comprising:
Theory of knowledge, in which students reflect on the nature of knowledge and on how we know what we claim to know.
The extended essay, which is an independent, self-directed piece of research, finishing with a 4,000-word paper.
Creativity, activity, service, in which students complete a project related to those three concepts.
The IB DP Curriculum Model
The IB educational philosophy is defined by the IB learner profile and the approaches to teaching and learning. The IB Diploma Programme curriculum encompasses six academic areas surrounding the three core requirements. Students undertaking the Diploma Programme at SNIS will:
Study six subjects chosen from the six subject groups
Students may opt to study an additional sciences, individuals and societies, or languages course, instead of a course in the arts.
Three of the six subjects are studied at higher level (courses representing 240 teaching hours)
The remaining three subjects are studied at standard level (courses representing 150 teaching hours)
Higher Level (HL) and Standard Level (SL) courses differ in scope but are measured according to the same grade descriptors, with students expected to demonstrate a greater body of knowledge, understanding and skills at higher level.
Complete an Extended Essay (EE)
Follow a Theory of Knowledge course (TOK)
Participate in Creativity, Activity, Service (CAS)
A Bilingual Diploma will be awarded to a successful student who fulfills one or both of the following criteria:

Completion of two languages selected from Group 1 with the award of a grade 3 or higher in both languages
Completion of one of the subjects from Group 3 or Group 4 in a language that is not the same as the student's nominated Group 1 language; the student must attain a grade 3 or higher in both the Group 1 language and the subject from Group 3 or 4.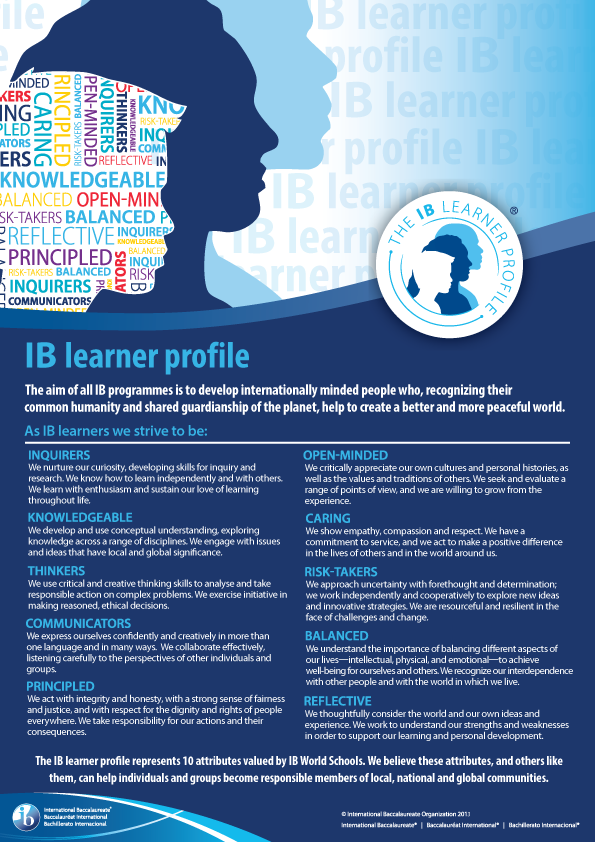 IB Diploma Group and Subject (Block) Offerings at SNIS
With support from the Head of School, IB Diploma Coordinator, counsellor, teachers and parents, students entering IB DP choose their subjects, based on their interests and career aspirations, from the following subject groups:
Group 1: IB Language A
Group 2: IB Language B (Second Language) or IB Language Ab Initio (beginner level)
Group 3: IB Individuals and Societies (Humanities)
Group 4: IB Sciences
Group 5: IB Mathematics
Group 6: IB Arts (or an additional subject from Groups 3 or 4)
In addition to the subjects from the above subject groups, all students have to complete the IB DP Core subjects:
Theory of Knowledge (ToK)
Extended Essay (EE)
Creativity, Activity, Service (CAS)
Eligibility for acceptance into the IB Diploma Programme (Grade 11) at SNIS
All previous educational qualifications will be considered but a student needs to have achieved a high level in their educational background to certify they begin the IB Diploma Programme with a sound academic footing.
For students who have followed the IGCSE programme, we require a minimum of five passes (C through A*) to enter the full IB Diploma programme and we recommend a minimum of a grade 'C' to enter a standard level course and 'B' to enter a higher level course.
A minimum of four IGCSE passes (C through A*) is required to enter the IB courses programme
Grade 11 and Grade 12 in SNIS is a place where diligence and high academic standards go alongside with a strong stress on the growth of an all-embracing education in an ingenious and reassuring environment.
The information on our website is to assist students in making decisions about which subjects to select for the IB Diploma Programme in Grade 11- IB DP.
SNIS Outstanding Achievement Scholarships
SNIS Outstanding Achievement Scholarships are awarded to those candidates who demonstrate outstanding Academic Aptitude and display artistic or athletic excellence. The SNIS Scholarship Program is available to all new applicants for Grade 11 (IBDP).
Click here for further information about the SNIS IB DP Scholarship Program
Contact our Admissions officer ([email protected]), with any questions you may have about the application procedure.
Source: www.ibo.org