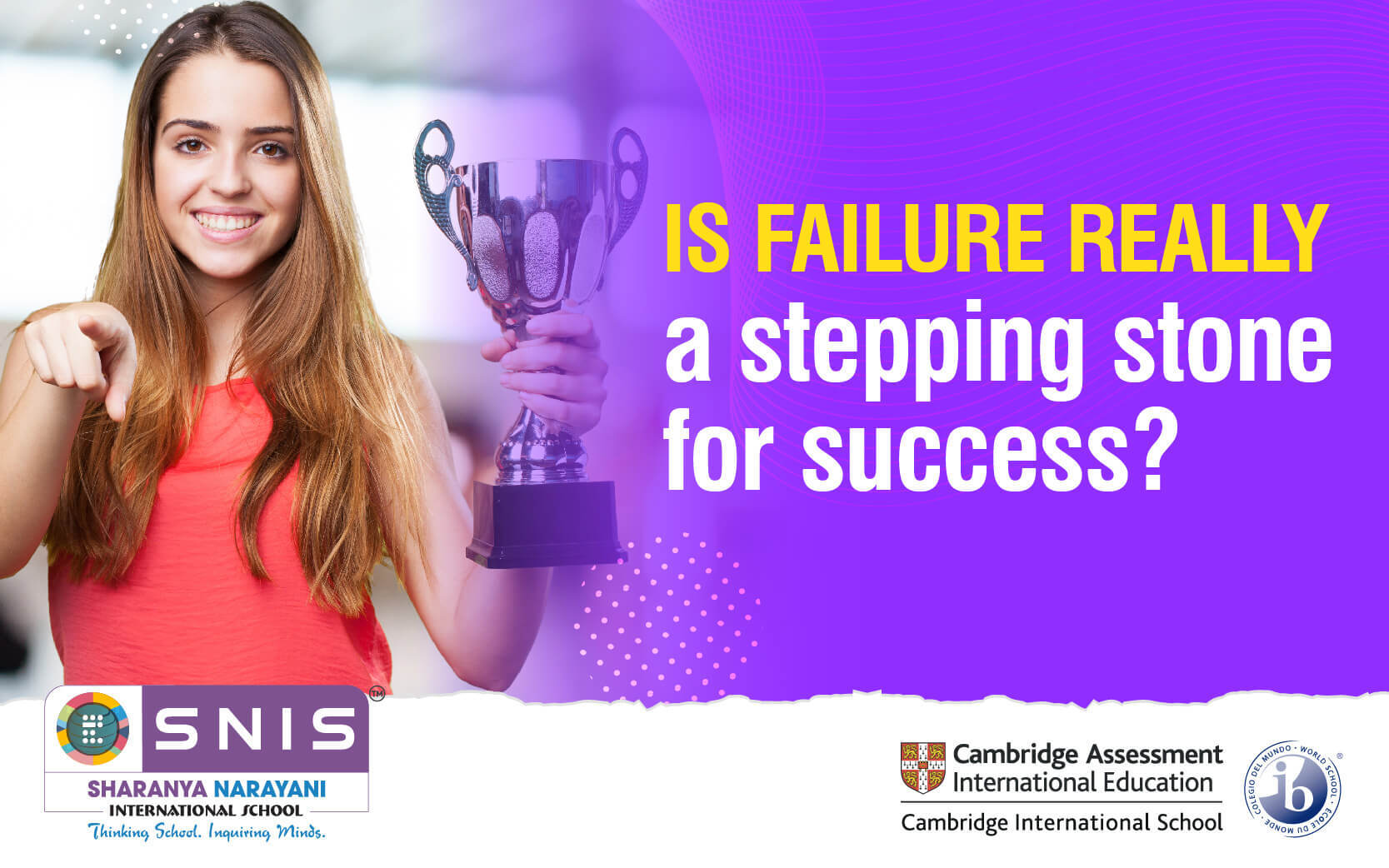 25 Nov

Is failure really a stepping stone for success?

Many people have misconceptions about failure. They think that failure is a stepping stone for success, but what is a stepping stone? Let us first understand what the saying is actually saying.

Success is what you learn from your failure and how you rectify it and not repeat it.  If you just keep making the same mistake, you will not be able to improve your skills or knowledge. You improve when you reflect upon your mistakes and correct them, so the next time you perform a task you should improvise your corrections and perform better.

There is no failure, no disappointment, no mistake in our past that can stop us from taking a positive step forward right now. No matter how many times we may have fallen short of the mark before, success is closer than ever.  All our past failures were actually laying the foundation for our future successes, only if we reflect and learn from them.
Learn how to reflect:
The very first thing in reflection is acceptance, you have to accept your mistakes/flaws. It is okay to make mistakes!
Reframe the error/mistake. How you view your mistakes determines the way that you react to them, and what you do next. If you look at mistakes in a negative way, you will have a feeling of discomfort and dejection. You have to view it in a positive light so that it motivates you.
Analyze your mistake. You have to ask yourself four questions when you are analyzing your mistakes:
What was I trying to do?
What went wrong?
When did it go wrong?
Why did it go wrong?
You have to answer all these questions to analyze your mistake. This is not the only way to analyze your mistakes, this is just one way.  It might depend on the activities you are performing.
Put the lessons learned into practice. The danger at this stage is that work pressures force you back to your routine tasks and habitual behaviors. The lessons that you identified in Step 3 could languish unfulfilled, as mere good intentions. If your mistake was a minor or a personal one, personal goals and action plans will lay the groundwork for implementing the lessons you've learned. They can give you a timescale to work towards, and a list of the tasks that you'll need to complete.
Review your progress. You may have to try out several ways to put your learning into practice before you find one that successfully prevents you from repeating past errors. A Plan-Do-Check-Act cycle is a great tool for pinpointing the most effective solutions. From there, monitor the efficacy of your chosen tactic by reviewing the number and nature of mistakes that you do – or don't! – still get made. Asking someone to hold you accountable can help you to stay committed to your new course of action.
Once you are able to treat failure as a learning opportunity you can put it in the past and move forward.  The disappointments you experienced in the past will be over and can hold you back no longer. That is when you're able to move forward. Today you can take the valuable lessons you've learned and transform them into effective, positive, actions.
In my school, Sharanya Narayani International School (SNIS), a top IB residential school in Bangalore, we are taught to truly believe that failure is a catalyst to success. It inspires us to learn from our mistakes, unlearn and try again.  The environment and the culture of education enables us to try and not be dejected. The fear of failure is the root cause of failure. If we can remove that fear, success is inevitable. That's what comes from a truly inspired educational philosophy, reflected by everyone in SNIS' environment.
Whether it seemed to work or not, every step you've taken up until now has brought you closer to success. Failures are but stepping stones on the road to success. You have the confidence to move ahead.  You understand that your desire for success has to be greater than your fear of disappointment and failure.  Take the steps that will take you where you need to be.  It's up to you.
In conclusion, I would say that failure alone is not a stepping stone to success, it is the work you do on failing. Success is not possible without effort.
By ~S.V. Chiraayu Reddy
Grade 11 student, SNIS