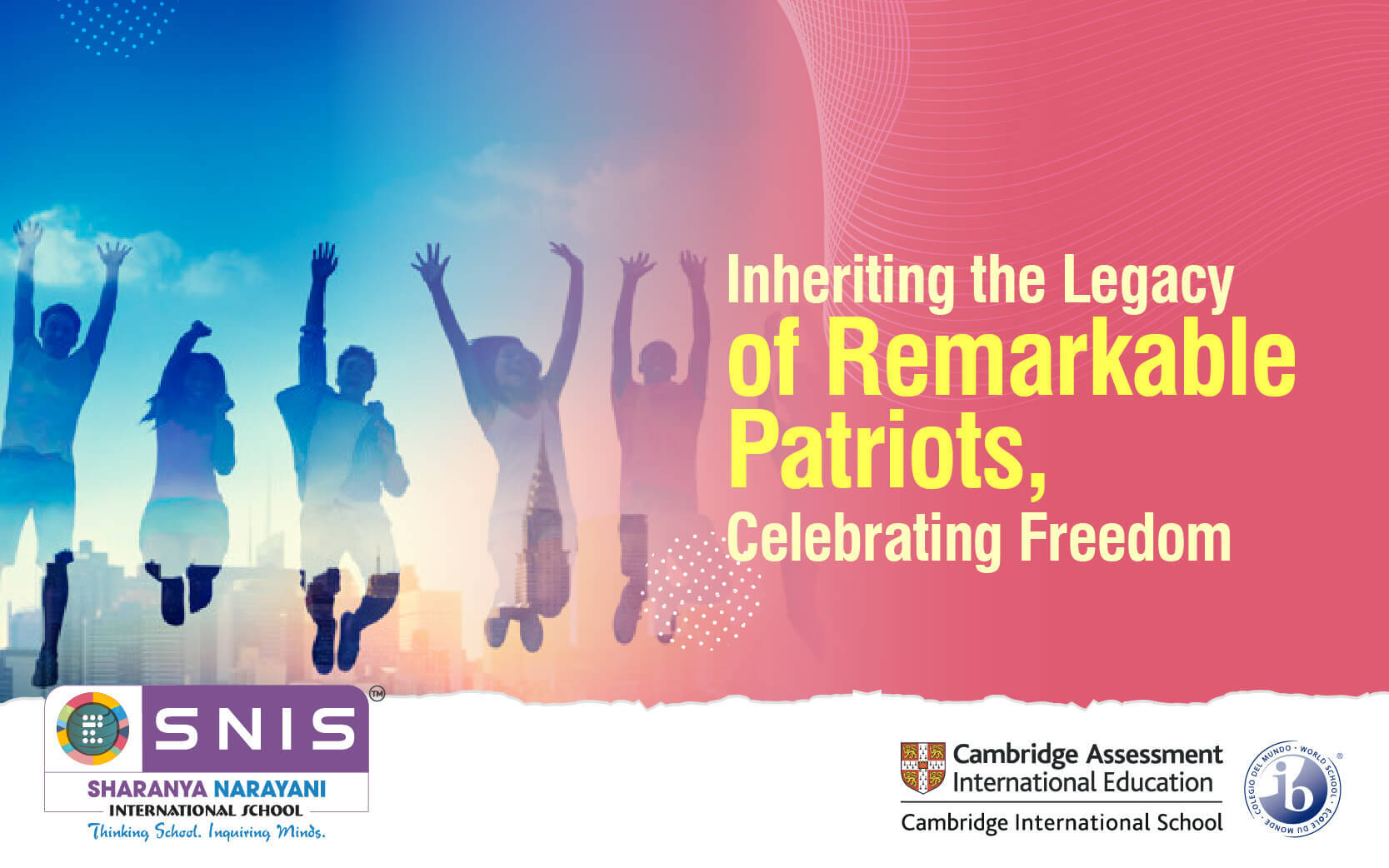 19 Aug

Inheriting the Legacy of Remarkable Patriots, Celebrating Freedom

– By Pranava Sri Sai Gande, Grade 10 student, SNIS

"Bombs and pistols do not make a revolution. The sword of revolution is sharpened on the whetting-stone of ideas."  – Bhagat Singh                                                                                                                                                                                              

On this day, a mere 72 years ago, our fathers and forefathers gave our country the gift of freedom – a privilege that we have reveled in since. Our nation was built on the broken bones and spilled blood of our freedom fighters, and as Indians, their legacy and heritage belong to us. The freedom we received and the generation of sacrifice preceding it must be remembered and celebrated. On August 15th every year, therefore, we celebrate the patriots of our country and their noble struggle. In short, we celebrate the very reason we are Indian.

India has had a long and complicated history. By the 17th century, European colonists had already established themselves as traders and merchants. Through military dominance, these colonists began conquering and taking control of local kingdoms, and in 1858, they finally subdued the entire nation. Over the following decades, dissatisfaction began to swell, and eventually materialized as the Indian Independence movement. India never truly returned to its former glory, even after the movement, as the country was split immediately after.

Written deep in the history of our country are the names of the patriots who inspired our people to fight for freedom. Their names will never be forgotten because of their radically different methods of protest. Chief among these patriots is the father of our nation, Mohandas Karamchand Gandhi. Led by Gandhi, our nation partook in a widespread non-violent resistance campaign. Another leader who redefined India with his unwavering patriotism is Subhas Chandra Bose. However, we cannot solely attribute our freedom to the names in history books. It is not only because of the leader's sacrifices that we now enjoy liberty; instead, it is due to the sacrifices of everyone who followed these leaders. Everyone who fought for India had to make immeasurable sacrifices, and we celebrate Independence Day in their honor as well.

We cannot celebrate freedom without also celebrating the Indian army that protects us today. The soldiers serving in the army forego their routine lives and close relationships and endure grueling training to serve our country. Peace is not something that can simply be wished for. Peace can only be earned by fighting for it, which our nation's freedom fighters did in the past, and the Indian army is doing today. Soldiers give up their lives so that we can enjoy ours, and they deserve tremendous respect and admiration for that.

At Sharanya Narayani International School (SNIS) a top day and boarding school in Bangalore, the students learn to appreciate and be knowledgeable about our nation's culture and history. After all, only then can they be open-minded and empathize with those who struggle for our country. As a leading boarding school and IB world school, SNIS imbues children with the ability to think for themselves and be culturally sensitive. With these qualities, our students are empowered to be principled, caring and reflective leaders of tomorrow.

Freedom defines life. We can only grow and learn when we are free to do so. On Independence Day every year, we commemorate the people who have given up their lives in service of our nation's freedom and peace. As Indians, it is our duty to remember them and care for the legacy they have passed down to us.

Happy Independence Day!