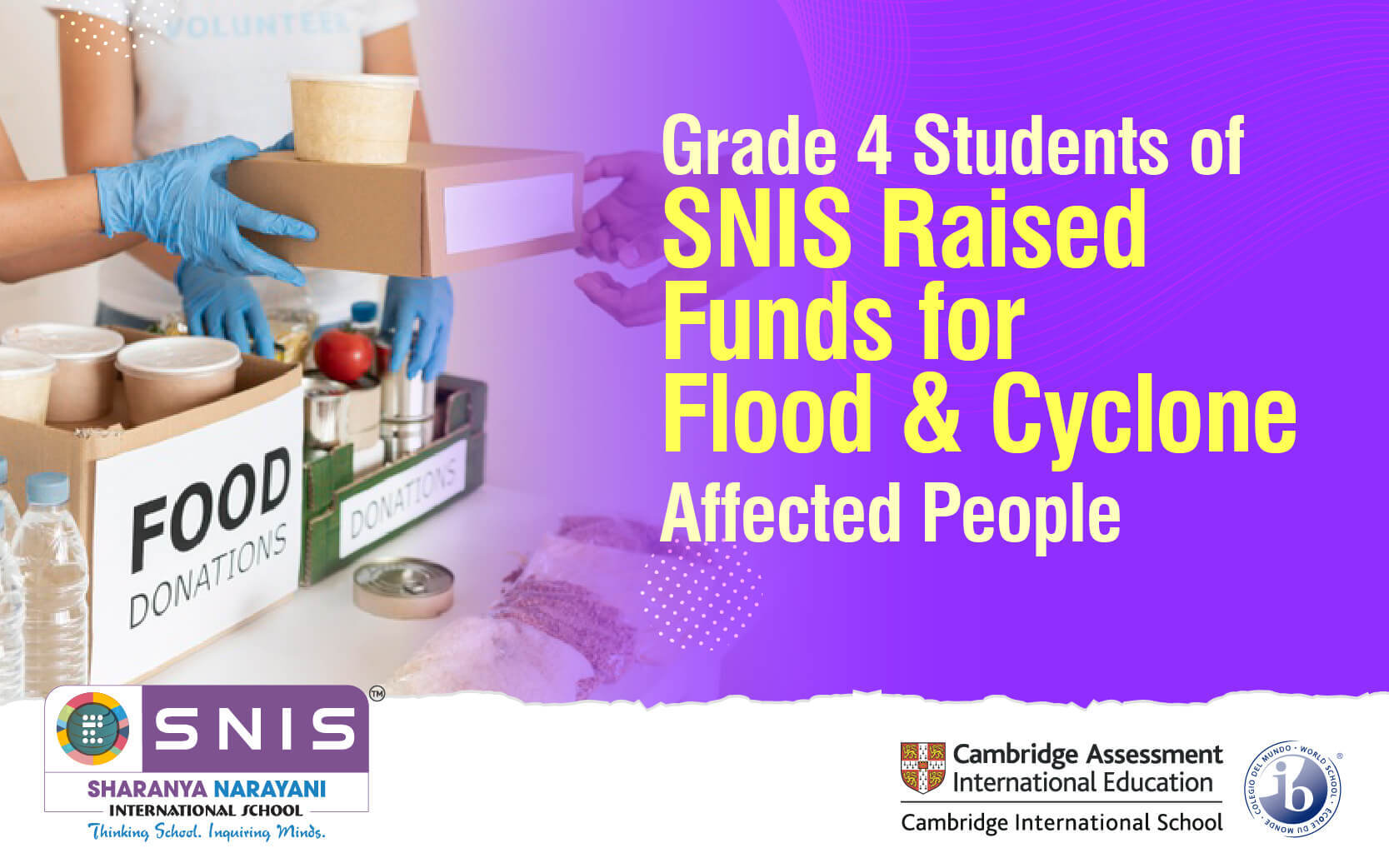 04 Jun

Grade 4 Students of SNIS Raised Funds for Flood & Cyclone Affected People

As part of extending a helping hand to the people affected by the disastrous Kerala floods and the Orissa cyclone, grade 4 students of SNIS raised funds and donated money and supplies to them, through an NGO called Goonj.

Kerala Floods

From 8 August 2018 to about 11 days thereafter, severe floods affected the south Indian state of Kerala, due to unusually high rainfall during the monsoon season. It is said to be the worst flood in Kerala in nearly a century. The floods caused the death of over 483 people and left 14 missing. Over 11 days of tempestuous rainfall has left a lot of people in Kerala homeless and made them lose all their belongings. The entire nation came together during this time to help the affected people and collected as many supplies and money as possible to distribute to them. At SNIS, we considered this as much our responsibility as the rest of the nation's to hold hands and contribute our share to the people of Kerala.

As part of creating awareness and giving back to the community, students prepared PPT/skit and posters explaining about Kerala flood and its impact. They presented this information to the students of other grades and raised donations for the people affected in the floods that are still in the recovery stage.

Cyclone Fani Hit Orissa

Cyclone Fani, a severe cyclonic storm hit the Odisha coast, south of Puri and made a huge impact on Friday, May 3, 2019. Over 11 lakh people were evacuated from the low-lying areas of 15 districts in Odisha. Many places have been badly affected and people have lost their belongings and possessions. They also faced a major water crisis and electricity deficit. The students of SNIS came together to collect as much money and supplies as possible to support the cyclone-affected people of Odisha.

We are very proud to see the sincere efforts of our students towards helping the needy. Calamities often break people and leave them homeless. SNIS strongly believes that it is the responsibility of each citizen to share what he or she has during these fateful times.

SNIS (Sharanya Narayani International School) is one of the best international schools in Bangalore that has boarding/ residential facilities as well. In addition to bringing up a community of students that are academically brilliant, SNIS also strives to encourage all kind of artistic, literary and sports related interests of students. SNIS encouraging its students to b caring and principled students who will be responsible global citizens.