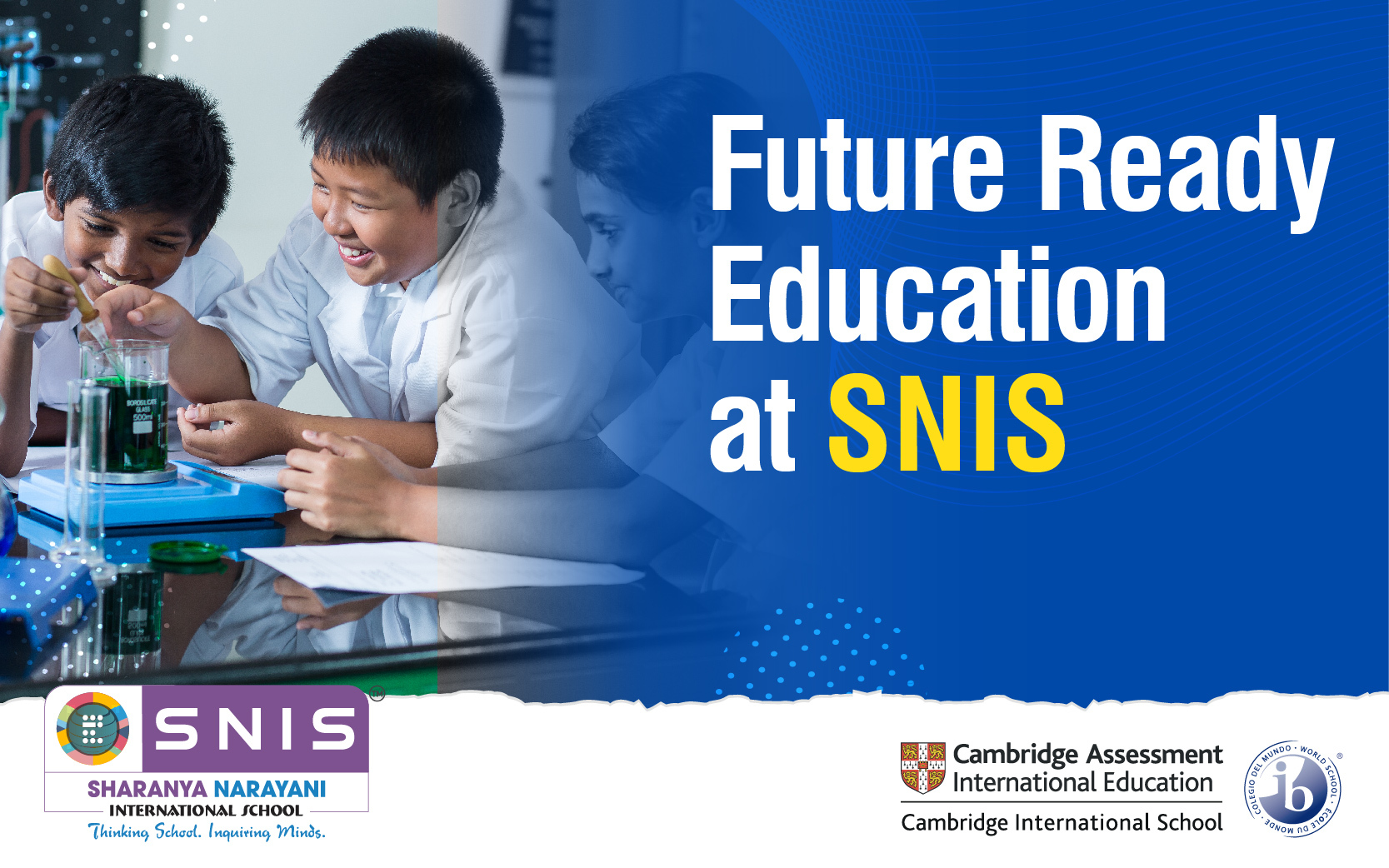 21 Dec

Future Ready Education at SNIS
"The future depends on what we do in the present." Mahatma Gandhi
A question that every educator must have asked sometime or the other is 'How do we make our students future ready? Focusing closer home, what are the practices that the educators at Sharanya Narayani International School (SNIS) – one of the top international schools in Bangalore adopt?' Is the education that our school provides, preparing them for a world that is changing rapidly bringing new challenges in its wake?  Much has been said about 21st century skills and how schools need to build these skills in students. As a top boarding school in Bangalore, one of the curriculums that is offered here to help build these skills is the International Baccalaureate Programme.  SNIS, being both an IGCSE and IB school in Bangalore, we have integrated multiple skills into our teaching learning process to empower our students.
The watchword for an IB learner would be critical thinking which is hailed as one of the key skills of a future ready student. They must learn to question, analyse and consider an idea from multiple perspectives. They need to keep up the spirit of enquiry and open their minds to new ways of thinking to understand and analyse the changing scenario. An IB classroom also emphasizes collaboration among students. There are ample opportunities for students to work together on projects, brainstorm ideas and come up with solutions to problems, debate on topics – all of which promote another much-needed skill in a globalised world– collaboration and working together as a team. Such activities also hone leadership skills and develop their emotional intelligence. They learn to take initiative, be responsible and considerate individuals. SNIS, which is one of the best residential schools in Bangalore has an added advantage here to help students to become well rounded personalities who are intellectually and emotionally mature.
Students also are encouraged to be creative and innovative in and out of classroom and look beyond the confines of the text. Many of the concepts are learnt by linking it to real life scenarios and students understand how to apply what they have learnt. Information and digital literacy skills are inculcated at an early age to help them become responsible digital citizens. Students demonstrate what they learn through presentations and exhibitions, learning to communicate their ideas coherently. All of these skills promote active learning where the emphasis is on involving the students in experiential learning. As one of the best international schools in Bangalore, we at Sharanya Narayani International School believe that students should be life-ready. As Tony Wagner puts it, 'the world doesn't care what you know. What the world cares about is what you do with what you know'.
– by Deepthi. C.K
  DP Coordinator Designate, Head of the Department – English