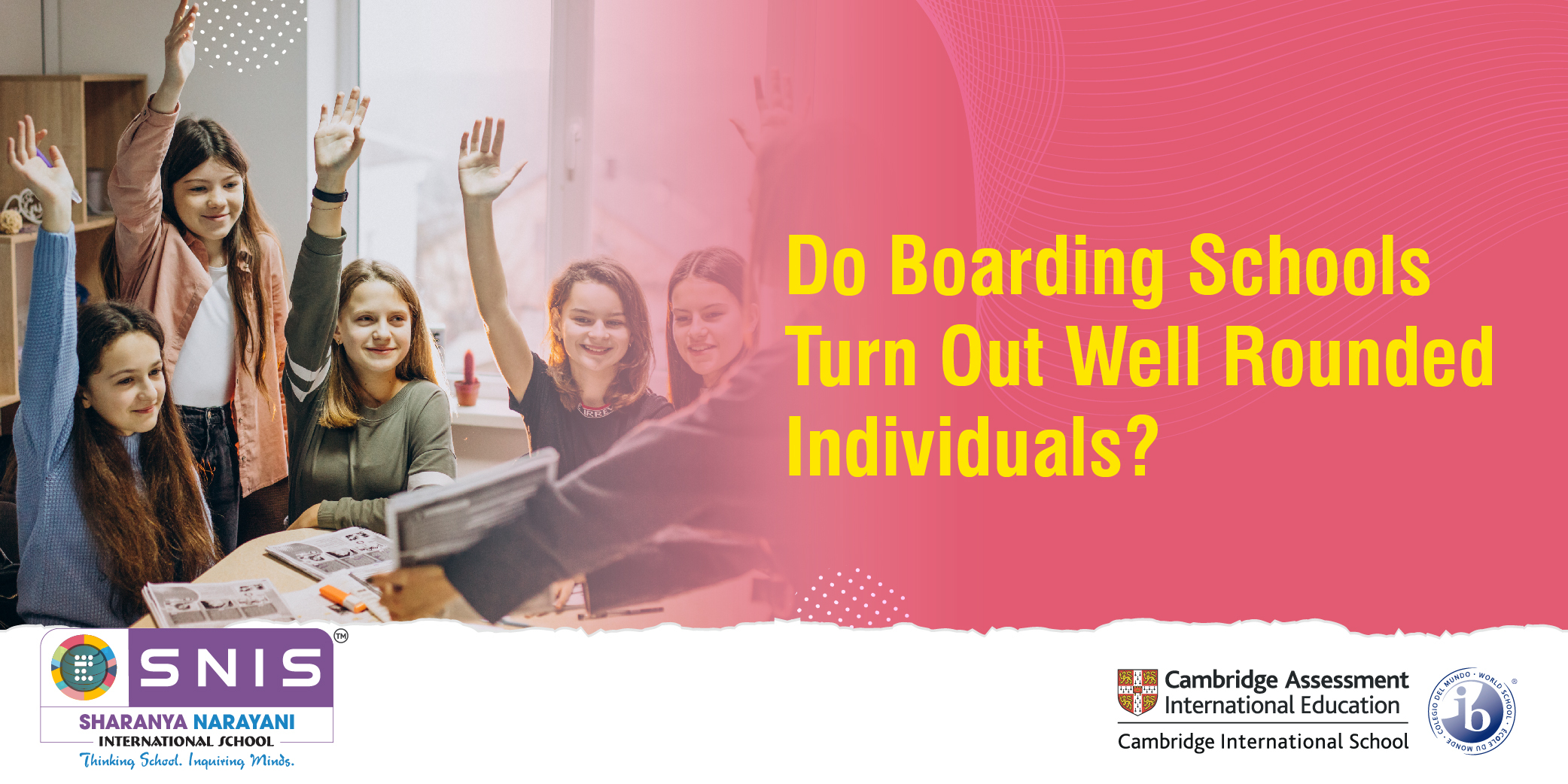 19 Aug

Do Boarding Schools Turn Out Well Rounded Individuals?

I've often heard that children were sent to boarding schools as a form of punishment or to get disciplined. It has been associated and stereotyped as a sad place with no freedom and no fun. What strikes my mind when I think about boarding school is living, studying and enjoying. For me it is an abode where students reside and study. In general, these days, boarding schools strive to make the students feel at home whilst they live far from family.

So, of course, there are benefits for the pupils living on campus when compared to the day scholars.
When students need help after school hours with regards to homework or assignments they have immediate support from teachers within the school grounds.
Living around similar age groups also helps us develop our individuality such as self-advocacy and independence.
In addition to this, when the students are around their friends they protect each other collaboratively and learn to work together which is an important attribute to live peacefully in a community.
Another point to consider is that the students in boarding are encouraged to work on their wellbeing regularly through co-curricular activities which makes them physically and mentally fit. This quality of maintaining health is one of the prerequisites to grow as a better individual.
 Early morning and post academic hour sports motivate kids to work on their health and fitness intending to lead to one's happiness and confidence.
My school, Sharanya Narayana International School (SNIS), is a premier international residential and day school in Bangalore, it is ranked among the top 10 International Day and Boarding Schools in India. Our school is nestled in the midst of a 60-acre green campus and a multi-cultural, caring environment where our thoughts and creativity is nurtured.  Our campus is extremely safe and secure, no outsiders can enter without authentic permission and only through proper channels and students cannot leave the campus without permission. There is ample place to go on refreshing walks and even cycle and jog. We have a massive pristine swimming pool, which we are free to use and also we also have on campus staff to teach, assist and monitor. We also have Indoor and outdoor sport facilities from chess, carom board, table tennis, squash to Cricket, Basketball and Football. We have an awesome cafeteria which cooks wonderful home-style food which is healthy, tasty and balanced. Our rooms are clean, spacious and bright. We also have an infirmary we can go to when we are sick.
But more than all this we have loads of fun living learning and growing up here and the on campus kids look forward to the weekends. It is when we are taught non- academic skills exploring various challenges, apart from sport. One that particularly amused me was the treasure hunt. In this task, we had to work as a team to decode the clues in symbolic, linguistic and poetic form to find the treasure. This helped us to think critically and analytically. Another fun game was the tableau where we had to recreate paintings and make a parody out of them. This made us observe the painting closely to draw out a story from it.
Though the students don't have their own family around them, the SNIS staff work hard to make them comfortable on campus. The students learn to be organized and maintain discipline that will help them in their future lives and careers.
To sum up, SNIS boarding is a home away from home and I believe that my school turns out well-rounded individuals through boarding.
By Kaitlynn Fernandez
Grade 8 student, SNIS