27 Sep

Digital Citizenship – A boon than a bane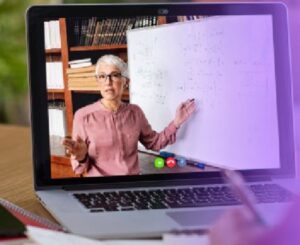 "The internet is becoming the town square for the global village of tomorrow" quotes the computer mastermind and Principal founder of Microsoft Corporation.
Gone are the days when students only depended on books for sourcing information. With the advent of technology, students are getting prepared as early as 4 years to use computers and phones to learn information and make connections to the real world. Internet has revolutionized the world with the speed of information at the touch of a finger. With the growing usage of the digital world, it is the duty of the educational institution and teachers to build the 21st century learning goals – critical thinking, collaboration, creativity and communication in the students.
Students especially at the primary level are at the huge risk and exposure to the online world. Elementary students, 8- 11 year olds, use internet not only for information but also to socialize. They know to use internet not only from a laptop or a computer but also from hand held mobile devices like Phones and iPads. It is impossible for the middle and senior school students to get education without internet these days. Internet has paved way for every student to carry a laptop for their school work and communicate with teachers through educational websites irrespective of time and place. It has also made learning go beyond classrooms through flipped classrooms and skype sessions.
As much as there is knowledge and information in the internet, there are also certain risks involved while using the internet. Therefore, it is essential for us to teach our students to use digital technology in a safe and responsible way while enjoying many benefits it has to offer. There is always an ambiguity involved when the students go online either for personal purpose or for education.
Is it fine to use the content and pictures from the internet, without giving credibility to its owner?

Can we post pictures of others without their permission?

Can we post pictures of ourselves and is that safe?

Is the content I read authentic?

Do I open messages from an unknown sender?

What should I say and not say when I am in social media?
Howard Gardener, an American developmental psychologist who gave the world multiple intelligence, in association with the McArthur foundation researched about the possible threats that digital media has on a balanced education. He strongly advocates that young people must be taught to become ethical and moral users of the internet and to become sound members of the global community. In his seven-minute video interview, he quoted that "Anything we can do to create models for young people as they are growing up as to what it's like to live in an environment where ethics and morality is what we aspire to — we don't necessarily achieve it but we aspire to it — and if we screw up how can we do a better job, I think that's the best gift we can give young people growing up in any society."
Howard Gardner also suggested the 5 main areas that our digital youth should be guided to think by either teachers or parents to become a safe digital citizen (Credit: mlaworld.com).
Identity: Students should be aware of what they post in the internet either about themselves or about others.
Privacy: Students should be sensitive about how well their information is protected especially when they post something in the social media sites about themselves. They also have to make a conscious call about the people with whom they would like to share the information with.
Ownership: Students should be knowing how to deal with the information created by other people. What should they do if they use the pictures and content created by others.
Trustworthiness: They should be able to distinguish the right information from the wrong. They should be able to identify the authentic site and news from a fake one.
Community: Students must know how to interact with the others in the internet community especially if they receive an unwanted or spam emails or texts.
There are basic guidelines for students, teachers and parents to follow to make our youth digitally safe. Hence some basic tenets for
Students:
Talk to the parent or teacher if you find that something is not right on the internet.

Use strong passwords

Give credit to the resource used from the internet

Do not open unfamiliar messages or attachments

Do not share personal information with anyone online

Refer to more than one online resource to check the credibility of the information.

Have a trusted adult to discuss the information gathered online.
Educators:
Review the internet policy at school with the management.

Take precautionary measures like installation of anti-virus software for protection of identity of students using the internet.

Demonstrate how to be digitally safe.

Teach students to take proper care of their devices.
Parents:
Monitor the use of internet of the child.

Install safety programs like anti-virus software for the safety of the child.

Talk to your children about the new information, programs and applications they learn to know their use.

Upgrade one's knowledge to current internet practices.
Digital literacy is 21st century skill which is indispensable for the young learners. Students will understand the importance of digital literacy if it is streamlined in the curriculum. Schools must lead the responsibility of training the teachers and parents on the safe use of internet, which is definitely a boon rather than a bane for our leaders of tomorrow.