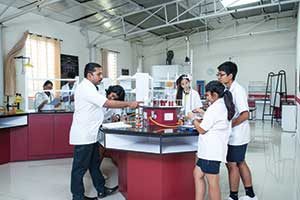 Cambridge IGCSE curriculum is offered and administered from CIE- Cambridge International Education which is part of University of Cambridge. Cambridge IGCSE is a leading benchmark International curriculum for the age group of 14-16 years old. It is recognised by all major Indian Universities and abroad. IGCSE is offered by schools in over 120 countries. It provides a balanced, broad spectrum curriculum, preparing students for Pre University programmes, both within and outside India including IB curriculum. It provides an ideal preparation for higher level courses such as GCE, 'A' level, SAT, ACT and IB. It is recognized as equivalent to the British 'O' level and as a qualification for matriculation by Universities in many countries.
IGCSE is designed to be taught as a two-year course for students aged between 14 to 17 years. The examination is typically taken at the end of two years, in Grade 10. Examinations are held in June and November each year with results issued in August and January respectively.
The students are offered a wide range of subjects according to their skills and ability with the option of studying Core and Extended in many subjects. Cambridge IGCSE develops learner knowledge, understanding and skills in subject content, applying knowledge, intellectual enquiry and cultural awareness.
To provide a multidimensional and challenging academic programmes, IGCSE subjects are offered in five groups-
Group I: Languages
Group II: Humanities and Social Sciences
Group III: Sciences
Group IV: Mathematics
Group V: Creative, Technical and Vocational
A student who takes examinations in a minimum of 5 subjects qualifies for the IGCSE certificate. The ICE Certification (International Certificate of Education) is awarded by the CIE for the recommended combination of subjects in the IGCSE examinations.Candidates enter and sit for a minimum of seven subjects selected from the five IGCSE subject areas mentioned above. At SNIS, all students are required to prepare for the ICE certification.
ICE is a group award of the IGCSE that requires the study of subjects drawn from 5 different IGCSE subject groups. A student must take at least 7 subjects, including 2 languages and 1 subject from each of the other subject groups given below.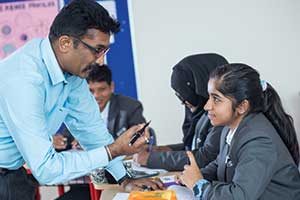 The ICE result is published in 3 levels:
Distinction – Grade A or above in 5 subjects and Grade C or above in 2 subjects
Merit – Grade C or above in 5 subjects and Grade F or above in 2 subjects
Pass – Grade G or above in atleast 7 subjects.
We recommend that our students take 7 subjects to enhance their chances of achieving the best results.
To know more please visit cie.org.uk reference page.
Save
Save
Save