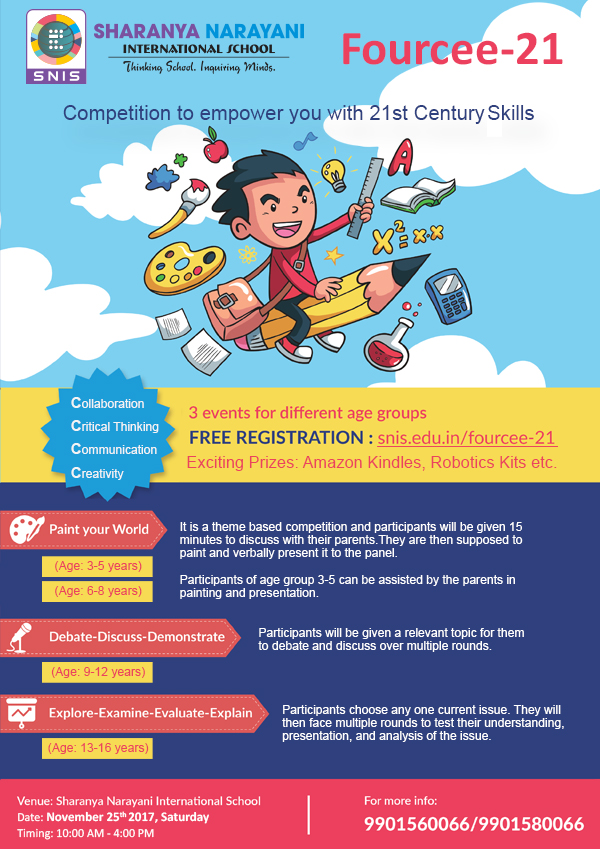 PAINT YOUR WORLD
TIMING: 2 HOURS
THEME: MY FUTURE WORLD
AGES 3-8
This competition calls on budding young artists to think about the world that they are part of and express what future world means to them. It has to be a colourful representation of a world "where the mind is without fear".
The participant is also expected to speak and convince the judges of their choice of representation.
For example: What makes them think the world would be as they have demonstrated or their choice of colours, their ideas, and their artwork itself…
Acceptable tools of drawing / painting include pencil, crayon, water colour, oil paint.
The Artwork must not include words, national flags, or slogans.
The Artwork must not represent any particular individual, organization, or brand name and must not depict any religious theme.
The Artwork should be an individual effort of a child.
The winning artworks will be the property of SNIS
DEBATE/DEMONSTRATE/DISCUSS
TIMING:
AGES-9-12
THEME: TOPIC OF SOCIAL & CULTURAL RELEVANCE
THE TOPICS WILL BE GIVEN 1 HOUR PRIOR TO THE EVENT
Students from classes 5 to 7 are eligible to participate in the competition. ENGLISH must be used by each speaker while debating.
Each participant will be given 2 Minutes to speak. After which a bell will indicate the time for rebuttal.
The rebuttal will be in the form of questions where, each debater will get an opportunity to answer only 3 questions put forth by the JUDGES.
While rebuttal arguments are presented the debaters should be prepared with appropriate arguments. Counter arguments will not be permitted.
The questions put forth will be impartial, well-defined and will have a bearing on the content of the speech.
EXPLORE/EXAMINE/EVALUATE/EXPLAIN
TIMING- 4 HOURS
AGES-13-16
THEME: ISSUE OF SOCIAL RELEVANCE
Participants will form a team and collaboratively tackle some of the toughest global issues. No matter where you come from, who you are, your experiences will bring a distinctive outlook to our conversation. This conversation is displayed on IDEO's design thinking methodology.

RESEARCH: To share stories and successful examples on the challenge topic.
IDEAS: Based on learnings from the Research phase, the participants share new, ideas and collaboratively refines them.
REFINEMENT: We then focus on testing ideas with end users.
FEEDBACK: This is when the participants share comments and suggestions for next steps.
TOP IDEAS: Working closely with the opponents, participants choose a set of top ideas based on their potential for impact, level of engagement and relevance to the challenge topic and evaluation criteria. 
IMPACT: This is where you can share learnings, find collaborators and share updates on how ideas are evolving.